Four docs unspooling at the Maui Film Festival
(fragment)

For 25 years, Michael Masley has been hypnotizing crowds on the sidewalks of Berkeley, Calif., with the magical sound of his cymbalom. Masley plays his instrument with bowhammers -- metal bows attached to his fingers by rings. Featuring interviews with such rock greats as Steven Tyler and Joe Elliott, the Atorrante Films documentary from director Martin Yernazian tells the poignant tale of this struggling visionary and musical activist.
06/02/2009 - The Hollywood Reporter - By Shannon L. Bowen
Note: This film has not been completed, a work in progress was shown at the Maui Film Festival.
ART OFFICIALLY FAVORED Movie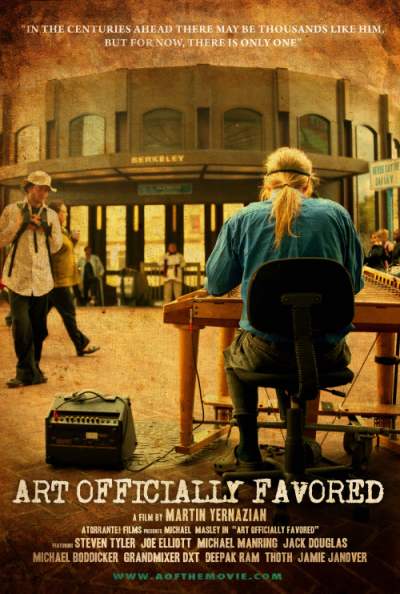 Click poster for Art Officially Favored Movie site
Click here for movie trailer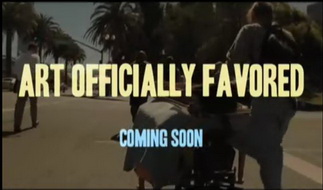 ---
Follow
on Facebook
,
Friend
on Twitter
...
No
wait
: it's the
Opposite!
These Arc-in
FUS
ing...

~~~~~~~~~~~~~~~~~~~~~~~~~~~~~~

Michael Masley
Michael MASLEY FaceBooK:
---
TRUE FLAG RISING:--A LONG & WINDING UPLOAD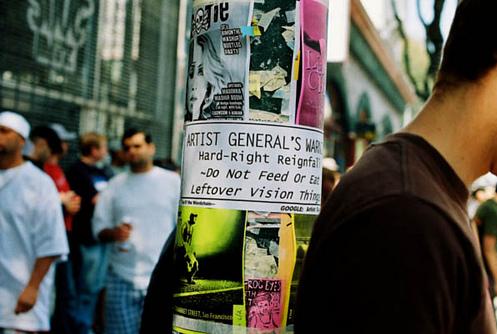 A 'spontaneous, ongoing multi-city collective canvas'
of independent uploads from dozens of photographers:
INNER NATIONAL TRUTH "IS OUT THERE"--

THUMBNAILED:
(Note: For the Record: All Artist General's Warnings,
WITHOUT EXCEPTION, Are In Spiritually and Culturally Manifest Principle "Fully-Approved!" by Founding Fathers & Better Angels).
One Minds' Eye-Contact
From Street-to-Cyberspace:
SLIDE SHOW
"...I've played the street for 25 years
and now, suddenly, from this paved instrument:
these silent notes rise
hand-pressed from sidewalk to cyberspace..."
LEAVES OF GRASSROOTS DEMOCRACY
---
ARTIST GENERAL'S WARNING:
A little goes a long way.
(Conformity is addictive)
...Don't abuse it.


Got WARNINGS? Load for Bear @www.artistgeneralstore.com
for T shirts, tote bags, mugs, buttons, bumper stickers, magnets and other unique items featuring conformity and dissent warnings.
---
"BIR WADA GVIS"
(burr wade-a geeviss)
Be It Resolved With All Due Attitude: Global Village Idiot Savant

"No one plays the cymbalom, the large hammered dulcimer, the way Michael Masley does. His creative brilliance goes beyond his performance... Masley...invented "bowhammers"...finding rich, haunting overtones that characterize his music."
--Bob Boilen--producer, All Songs Considered, NPR Classics (liner notes)

"...I realized, my God, Steven's right, he is a genius...you have to dig a little, like I was doing, but, he really is...he's DIFFERENT...There's NO one out there doing that in this country...it's soul music, in absolutely the purest form...it comes from the Street, it comes from that kind of player who's had to make a living by turning people on who are there--in the Street..." Producer Jack Douglas (Aerosmith, John Lennon, Patti Smith...) Art Officially Favored documental interview @ Tonehenge / Berkeley CA 3-18-02
Earth Folk musician Michael Masley (MAZElee) with his self-designed 'bowhammers'.

Through the Lens: Jan. 9 - Jan. 15 01/16/2005 - SF Gate

Street musician has a sound that's out of this world 01/15/2005 - / Jesse Hamlin / San Francisco Chronicle

"Michael Masley: brilliant" --Steven Tyler (interview / Art Officially Favored / Shoreline / Nov 02) See a film clip: Steven Tyler movie clip

"unbelievable harmonic resonances" --Butch Vig (producer/drummer of multiplatinum rock act GARBAGE) Musician Magazine interview

"cymbalom master...a wondrous new way of playing..." --Jesse Hamlin / San Francisco Chronicle

"The way he plays...is completely unique...an ethereal sound...glowing, angelic, celestial." --Carl Stone (avant-garde composer) --MOJO

"an extraordinary and utterly unique hammered dulcimer player" --Dean Suzuki / Progression Magazine

"master of extended cymbalom technique" --Bart Hopkin / Experimental Musical Instruments

"...hammered dulcimer master..." --Anil Prasad / Innerviews

"nothing short of amazing...ethereal, symphonic, and percussive... complex and accessible, invigorating and relaxing"--da Flower Punk / pauserecord.com

Read an "All Things Considered" interview

Listen to an "All Things Considered" interview

Click here for more information about Michael Masley.

Click here for more information on the Artist General

Click here for another article on Michael: Beethoven on the Street

---

ARTIST GENERAL POLITICS:
SEATTLE POST-INTELLIGENCER LAUNCHES PAYLOADED QUESTION: "RECU$AL-FOR-LIFE"

"LATE-BLOOMER, GOOD-2-GO:

1ST TURN OF NATIONAL ROLE!

--Artist General on The Daily Show"

---

ENTERING EGO STUN ZONE

(IMMORTAL MINEDFIELD AHEAD)

FLASH-COMPREHENSION-OF-ETERNITY HAZARD

DISENGAGE IMAGINATION IMMEDIATELY IF EXISTENTIAL VERTIGO OCCURS.

DO NOT FEED OR EAT LEFTOVER VISIONTHINGS!

Life in the Vast Lane

Launch Complete (All 'Systems' GOne) We Have Cognition

FOURSQUARED FULLCIRCLE

GALAXIES

STARPACK

In time, nothing
in no time, everything

alive by the billion darkly:
we live beyond our means
of understanding. . .


In no time, nothing;
in time, everything
aloof, soaring on ceremony
the magnitude of providence
holds its peace like breath withdrawn from ours
life by life, death by death.

Somewhere in the legend of a map so deep
that stars are lost in solid light
do you know what a world expects of itself?
do you know where the Earth ends tonight?

-- Michael Masley

MILKY WAY NEXT EXIT

---

Featured on "All Songs Considered" CD on NPR Classics "Six White Horses" from Mystery Repeats Itself

NPR Website Multimedia presentation: All Songs Considered Program 7 features "Tip of the Icebird" from Cymbalennium.

---
Latest CD Release
CYMBALOM SOLOS is the first "Bowhammer Cymbalom" release on Planet Earth. This album represents the essence of Masley's unique approach to the Cymbalom providing a relaxing, mesmerizing and unforgettable experience. Though a professional studio recording, it was offered as a complete title only on cassette (the first half, however, opens the compilation "Mystery Repeats Itself"). 2003 marks the first complete CD release of "Cymbalom Solos".

or get individual songs through iTunes or Amazon

"Vital and Inspired" --Barry Cleveland August, 2003

Click on Cover for details

---

Mystery Repeats Itself--The World's First Bowhammer Cymbalom CD (released 1995)

or get individual songs through iTunes or Amazon

"Masley is a genius...his music appears to come from another world...an unforgettable collection..." --Gianluigi Gasparetti / DEEP LISTENINGS (Italy)

"breathtaking...incredibly dense, spherical...brilliant" --Walter Bast / FOLK-MICHEL (Germany)


"...vast in scope...as wizardly a soundtrack to the Harry Potter books as one could hope for..." --Mitch Ritter / DIRTY LINEN

"Masley's specialty is strange instruments...bears the mark of traditional music, but is also disconnected from all tradition...a form of ethnic, eastern ambient without getting tiresome...a very different musical world...a gigantic ear-opener..." --Simen Viig Ostensen / TARKUS (Norway)

"...sparkling excursions...chiaroscuro nuances...these are new rhythms, harmonies and constructions of a superior mind..." --Gianluigi Gasparetti / DEEP LISTENINGS (Italy)

"one of our more unique artists...Masley finds a global balance, with hypnotic results that transport the listener...on the fast track to another world..." --Lloyde Barde / COMMON GROUND
Complete Reviews




---

THE LIFE & TIMES OF A SUPERPOWER'S FIRST
(BUT NOT LAST)
ARTIST GENERAL

Free-Lance, Ad hoc Cultural Ombudsman


See movie clips and video of Michael here.

---

3 New Cuts
from Upcoming "Bowhammer" Cymbalom Release

POWER OF A JOURNEY

DANCE OF THE PENGUINS


(titled before the film "Happy Feet')

You-Saw-Them-MARCH!

NOW Every-Which-Way
Watch Them Turn It LOOSE!

(Animation Coming Soon)

DOWNLODESTAR

ALIVE (BY THE BILLION DARKLY)


(Composed, performed & produced
by Michael Masley / ArtistGeneral Productions / Copyright '06)

---




The cymbalom (also sp. cimbalom) is a modern orchestral (Hungarian) version of the hammered dulcimer, appearing first in Persia as the santour. Its trapezoid shape & tradition of playing with two hand-held 'hammers' have traveled world culture's living memory without missing a beat for 2500 years. Michael Masley plays with a technique he originated, which he calls "bowhammer" cymbalom--adding thumbpicks, this enables plucking, striking, and bowing.

Michael's music has been heard in diverse national contexts (94 Winter Olympics, NFL broadcasts, HBO, Entertainment Tonight, NPR, etc.); All Things Considered aired a profile of Masley (8-15-95) and excerpts from his CD Mystery Repeats Itself occasionally surface on that program as well as on Morning Edition.

Michael worked with Ry Cooder on the soundtrack to Geronimo: An American Legend, contributing original music on cymbalom, Lakota flute, and water pipes. He furnished the soundtrack for the acclaimed ski videos of Lito Tejada-Flores Breakthrough on Skis I, II, III and a recent NASA video Lunar Prospector.

Michael Masley's instrumental modifications, inventions, and extended techniques are treated in an article by Maxwell Taylor in the September 93 issue of Experimental Musical Instruments and Volume 9 of the EMI cassette series.




Michael Masley's music and career have been treated in:
Baker's Biographical Dictionary of 20th Century Classical Musicians
Baker's Biographical Dictionary of Musicians (8th Edition)
Option
East Bay Express
Beethoven on the Street
Experimental Musical Instruments
LA Times
Berkeley Voice
Detroit Free Press
New Age Journal
Oakland Tribune
PULSE! (Tower Records)
The Music Paper
BAM

and in the Foreign Press:

Ciao 2001
Ascolti Profondi (Deep Listenings)
Italian Public Radio (RAI)
German National Public Radio (NDR4)
Rudolstadt Festival--Magic Dulcimers
Die Tageszeitung (see article in German)
Folk Michel (see article in German)

In Credit is not Negotiable (Musician Magazine / Expert Witness, December, 1994),
Masley describes his Quixotian Quest (legal action) for contribution credit from the Sony Corporation.

---

"...but the billowing upper reaches of smoke




choreograph an altitude of subzero silence





and a photo of it all would be a promise of rain soon..."

From "The Sleep of Fire" --iWitness poem on LA Station conflagration


Masley's albums are accompanied by a 'concept' poem.

---

Masley recorded with producer Butch Vig (drummer for the multi-platinum rock act Garbage) and appears on Garbage Version 2. He has also recorded with Tom Waits, Chris Isaak and Mylene Farmer and appears on the release Celtic Zen, with Levi Chen and Lisa Franco.

He has performed in Cloud Chamber, a quintet featuring cymbalom with fretless electric bass (Michael Manring) cello (Dan Reiter) guitar (Barry Cleveland) perc./dulcimer (Joe Venegoni). Dark Matter, the debut CD of Cloud Chamber, is now available from Amazon.com. Also see Interview.



He has performed in the rave duo Trance&Mental with Mickey Huff.

Cosmic Relief - Covertoon from Life in the Vast Lane



---


Other Titles Available:


All Strings Considered (2001) features dulcimer duets with Jamie Janover.
Click album cover to order.

"This album is billed as "hammered dulcimer dialogues," and that's exactly what you get from these two expert players...esoteric but innovative...a lush web of sounds, tones and melodies that seem to have no musical boundaries..." --RELIX

"...two geniuses of hammered dulcimer...superrefined acoustic dialogues, a record that enchants...a marvelous union...artists on the edge..." --Gianluigi Gasparetti / DEEP LISTENINGS (Italy)

"startling and adventurous duet excursions on this gorgeous CD...challenging, dense music that nonetheless spotlights the delicate, mystical tonalities of their instruments...Masley's use of bowhammers, his own invention, allows...exotic and unexpected textures..." --Michael Parrish / DIRTY LINEN




---




Mystery Repeats Itself, cymbalennium and Cymbalom Solos are available from:

MICHAEL MASLEY
Tonehenge Productions
P.O. BOX 5232
BERKELEY, CA 94705




Email Comments/Questions or Orders to Michael Masley


Also see "film treatment"----LieJinx.com

"LieJinx is the epitome of Victor Hugo's "idea whose time has come." Its impact - when it happens - could be nothing less than the revitalization of democracy."
Ted Greenwald, senior editor Wired Magazine




"There is no deeper loneliness
Than the memory of a miracle."
Joseph Brodsky

---


Web design - Mihai Manoliu and Chris Potter